NEW
3 Classes
Please feel welcome to join me in these introductory classes through the Yamas. All online, these classes are suitable if you are new to Yogic study, or whether you would like a fresh perspective to liven up your current practice.
Each class is one hour in length, and will be held on zoom. None of the classes will be recorded, so these are live and interactive sessions.
Please feel welcome to join one or all classes held on Dec. 3rd 2022, Jan. 7th 2023, and Jan. 21st 2023 respectively.
Start time is 10AM PST. Class fee per session is $30CDN
Thank you!...looking forward to see you there.
If you would like me to create a personalized Yoga Nidra, please be in touch with me using the form on the Contact page and we'll set up a Nidra that is right for you. Personalized Nidras are recorded in MP3 format for you to keep and listen to in your own time.
$45CDN fee is to be paid in advance and is non-refundable.
"Vanessa created a personal yoga nidra for me and it is the most powerful session I have experienced. I continue to be guided by this audio when I need to recharge mentally, emotionally, and physically."--L.B.
---
The Yamas and More
"Month By Month" is a monthly membership of sorts. Though these classes are meant to foster a community of like minded individuals who are committed to their path, signing up each month means you have the freedom to stay for as long or as little a time as you'd like....try it for just one month, or stay for a few. Though anyone at any level of Yogic practice is welcome to join, I do like to keep these gatherings small. As well, I do only accept those who are sincere in their practice.
What You Get: 4 X 20 minute guided meditations each week, commit to mornings or evenings or both: 2 mornings, begin 6AM PST; and 2 evenings, begin 7PM PST.
2 live classes per month by Zoom: Led discussion about the Yamas and Niyamas and their relevance to our day-to-day living. In this way we experience them as a living practice rather than keeping them as a distant list of rules. Each class begins with a led topic then opens up for group discussion and inquiry.
To sign up for "Month By Month" please be in touch. Your monthly payment allows you to join any or all of the sessions.
Sign up for my Newsletter if you'd like to stay up-to-date on class times and dates.
---
Join: "Engaging in Tradition" - a welcoming Online Community
"Engaging in Tradition" is Letters In Yoga's private online community that has similarities to social media, but different. This is a place to connect and share on things old and ancient, with other members who value what culture and tradition offer to the wellbeing of our Soul. Satsanga means "true company" or "good company", and this Community is just that. Being a private group, it is a safe space to interact with one another as we leave no space for the negativities found on mainstream social media. Please feel welcome to Request To Join by clicking here.
Sign up for One Minute Reflection, a brief weekly reflection on any of the Yamas or Niyamas sent directly to your Inbox. Email me here and simply say "I'm in".
---
Upcoming
Facing Homelessness Through the Yamas
Vancouver is home to what is likely the most visibly addicted neighbourhood in Canada, which too, is known as the poorest urban neighbourhood in the country, making the homeless a significant part of this city.
The Yamas are our social behaviours and responsibilities, holding us accountable to our fellow man. This event is postponed for now, but will be coming soon, as Homelessness is a significant contemplation for our practice. Further details will be posted soon.
This will be a one hour class online. Fee for this class is $35CDN. For inquiry please feel welcome to Contact Me here.
---
Past Events
Feedback from workshop Participant: "It was awesome! We asked Vanessa if she could send us some notes of all her explanations of the meaning of this practice...It would be great if it was offered as a regular class. Thanks! Ruth P.S....and Vanessa was a wonderful facilitator!"
4 Keys: Brahma Viharas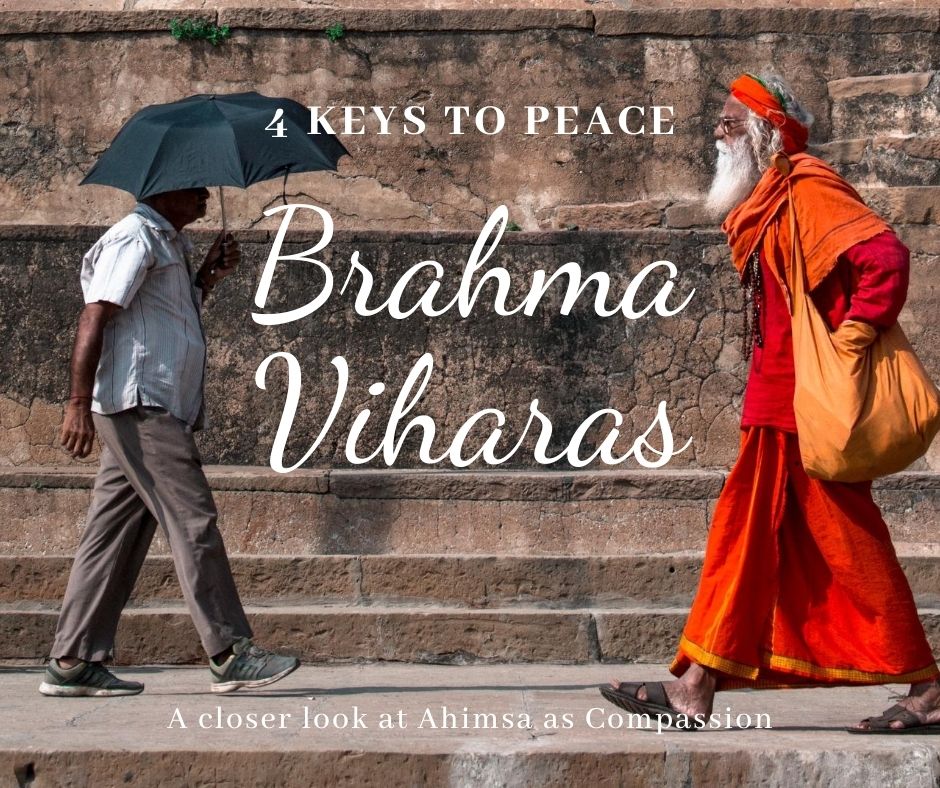 The experience of Compassion comes only from establishing our own Peace. In Book One of the Yoga Sutras, Patanjali offered us "4 Keys" to do just that. As in Buddhism, these are the Brahma Viharas; it is through this lens that we will investigate a deeper look into Ahimsa, the very foundation of Yogic practice. This is a two part workshop.
---
Speaking as Sacred
The ancient Rishis heard the sound of the Universe whilst in deep meditation. It is this sound, in cadence, that was brought forward into Mantra, not unlike Prayer. What does this say about speech and our ability to speak; likewise, our choice to slow down and consider what we say and how we say it. From where are we drawing our words, and would it be best not to say some of them? Do we have a duty to speak respectfully? This is a two part workshop.
---
Karma & the Kleshas
"The Divine teaching as I call it, does not operate with relative honesty, relative goodness, or relative intelligence, it operates with absolute values." --Master Peter Deunov
Karma isn't something to be feared; it is not good nor is it bad; nor can we judge ourselves or another by it. Perhaps we could call it a balancing of the scales. Karma brings us the opportunity to view how we're living our lives, asking whether we're meeting life in a harmonious way. Usually we are living out our lives through our Kleshas which fog up reality. Karma brings us the opportunity to clear the mist. The dissolution of Karma brings us the understanding and the experience of the interconnectedness of everything, that everything is being lived as a system. This is a two part workshop.
---
Belonging
Togetherness is as natural a human need as the need for Solace. It is an aspect of nurturing, of strength, and prompts reflection of ourselves in humanity. To see ourselves and to see another is vital for us. Sangha (community) is an integral aspect of Yogic living. In a world that is rapidly fostering the experience of isolation, this class looks at why we feel it so profoundly, and explores its impact, as well as what can we do to address and resolve this disconnect? Our spiritual wellbeing is critical to our sense of place, and our experience of belonging.
---