ONGOING EVENTS
Yoga Nidra
Yoga Nidra is a practice of deep relaxation through a guided journey. Because it provides a state of deep rest, a regular practice of Yoga Nidra is beneficial for restoring the nervous system and reconnecting with a sense of inner ease and inner balance. In today's world it is vital to have access to an inner space of quiet. All of Yoga is founded on the focus of liberation; and, Yoga Nidra, stemming from the Tantric Yogic practices, is that union of deep relaxation meeting our heightened presence to the moment. This is deeply transformative to our understanding, helping to gain insight from the internal Light. .
As signs of Spring grow more evident in March, the core of this month's Yoga Nidra will be themed on Ramana Maharshi's teaching "Who Am I?"
Please feel welcome to join this live audio-only event on Saturday, March 27th, 7-8PM PST, meeting place will be Zoom. As we're all facing challenging times, these are pay-what-you-can events, for the timebeing.
I do send the confirmation of registration manually, so please allow this time, as it's not quite as quick as the automated response.
If you would like me to create a personalized Yoga Nidra, please be in touch with me using the form on the Contact page and we'll set up a Nidra that is right for you. Personalized Nidras are recorded in MP3 format for you to keep and listen to in your own time.
$45CDN fee is to be paid in advance and is non-refundable.
"Vanessa created a personal yoga nidra for me and it is the most powerful session I have experienced. I continue to be guided by this audio when I need to recharge mentally, emotionally, and physically."--L.B.
---
The Yamas and More
These monthly gatherings are to foster a community of like minded individuals who are committed to their path, utilizing the practices of Yoga as a part of that path. The foundation of our gatherings is exploration through the Yamas, though we naturally incorporate the multitude of Yogic thought that branches from these Yogic ethics.
Though anyone at any level of Yogic practice is welcome to join, I do like to keep these gatherings small, so any addition of new classes is based on growth of interest. As well, I do only accept those who are sincere in their practice.
Registration for these Monthly Meets includes: two weekly morning meditations 6-6:20AM PST and two weekly evening meditations 7-7:20PM PST. As well as two half hour classes (usually on a Saturday) based on the Yamas. Registration is per month, stay as long as you feel it is a suitable fit for your practice.
To sign up for the gatherings please be in touch. Your monthly payment allows you to join any or all of the sessions.
Sign up for my Newsletter if you'd like to stay up-to-date on times and dates.
---
Join My Mighty Network: "Engaging in Tradition"
A private online community that has similarities to social media, but different. This is a place to connect and share on things old and ancient, members who value what culture and tradition have to offer.
Satsanga means "true company" or "good company", and this is just that. Engaging in Tradition is found on the MightyNetwork platform. Being a private group, you can Request To Join by clicking here.
---
Upcoming Events for Spring 2021
Karma and the Kleshas
"The Divine teaching as I call it, does not operate with relative honesty, relative goodness, or relative intelligence, it operates with absolute values." --Master Peter Deunov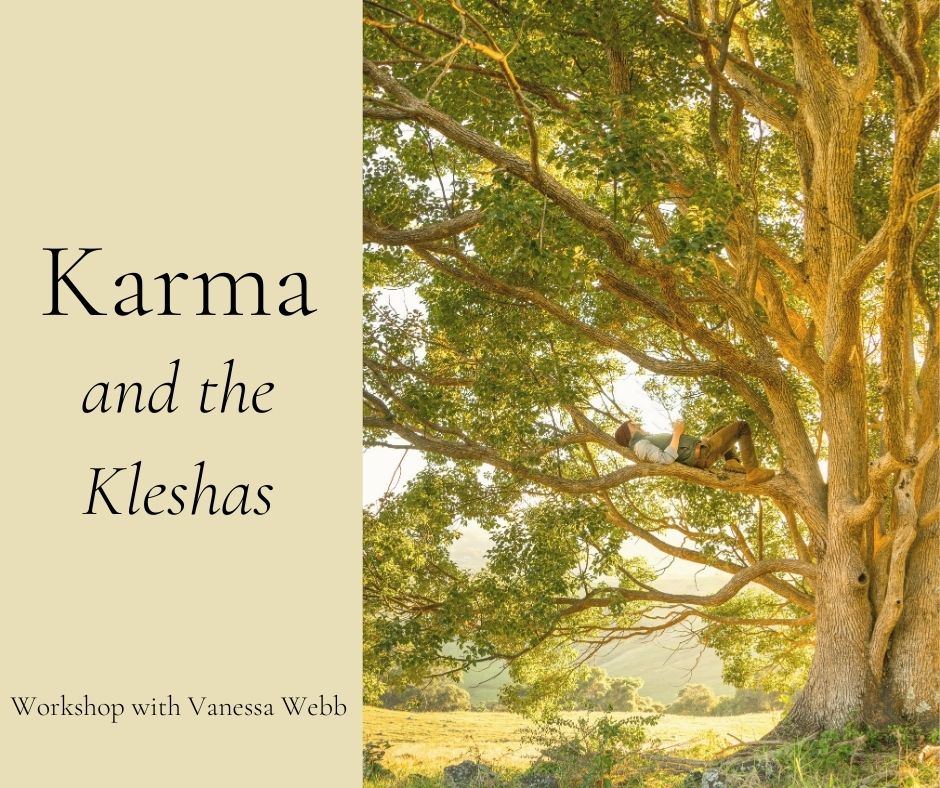 Karma isn't something to be feared; it is not good nor is it bad; nor can we judge ourselves or another by it. Perhaps we could call it a balancing of the scales. Karma brings us the opportunity to view how we're living our lives, asking whether we're meeting life in a harmonious way. Usually we are living out our lives through our Kleshas which fog up reality. Karma brings us the opportunity to clear the mist. The dissolution of Karma brings us the understanding and the experience of the interconnectedness of everything, that everything is being lived as a system.
This 2 hour workshop will be held over 2 days, as 1 hour classes each day. We'll meet on day one at 10AM PST on Saturday, 24th April, then again on Sunday, 25th April at 10AM PST. All are welcome.
Early Bird ends Wednesday, 31st March. For further inquiry please feel welcome to Contact Me here.
Feedback from workshop Participant: "It was awesome! We asked Vanessa if she could send us some notes of all her explanations of the meaning of this practice...It would be great if it was offered as a regular class. Thanks! Ruth P.S....and Vanessa was a wonderful facilitator!"
---
Togetherness is as natural a human need as the need for Solace. It is an aspect of nurturing, of strength, and prompts reflection of ourselves in humanity. To see ourselves and to see another is vital for us. Sangha (community) is an integral aspect of Yogic living. In a world that is rapidly fostering the experience of isolation, why do we feel it so profoundly, what is its impact, and what do we address to resolve this disconnect? Our spiritual wellbeing is critical to our sense of place, and our experience of belonging.
This will be a one hour class held on Saturday, 12th June, at 10AM PST. Fee for this class is $35CDN. For inquiry please feel welcome to Contact Me here.
---
Past Events
4 Keys: Brahma Viharas
The experience of Compassion comes only from establishing our own Peace. In Book One of the Yoga Sutras, Patanjali offered us 4 keys to do just that. As in Buddhism, these are the Brahma Viharas; it is through this lens that we will investigate a deeper look into Ahimsa, the very foundation of Yogic practice. Compassion is not pity, and it is not empathy; Compassion encompasses a fuller presence for another individual or creature...this presence coming from Awareness. Compassion is its own thumbprint and is the very crux of Ahimsa.
In order to grasp a more complete understanding of what Patanjali means by non-violence (Ahimsa), this 2 part class will look at Ahimsa through the lens of the Brahma Viharas. Our first class will focus on the ethic of Ahimsa, as well as learning about Anahata (the Heart Chakra). The second class will be dedicated to the Brahma Viharas, or 4 Keys, so that we might be able to better experience Compassion in our own lives; maintaining an inner steadiness regardless of whom we face throughout our day.
---
Speaking as Sacred
The ancient Rishis heard the sound of the Universe whilst in deep meditation. It is this sound, in cadence, that was brought forward into Mantra, not unlike Prayer. What does this say about speech and our ability to speak; likewise, our choice to slow down and consider what we say and how we say it. From where are we drawing our words, and would it be best not to say some of them? Do we have a duty to speak respectfully?
In this two part class, we will explore Satya, the second Yama of Truthfulness, through a variety of angles. In our first class, we will look at Satya as an ethic; and, we will look at the bridge between heart and mind, Vishuddha (or Throat Chakra). On day two we will discuss Saraswati, the Hindu Goddess of speech, wisdom and learning. We will look at Saraswati's symbolism and her contribution to our topic at hand. Furthermore, we will introduce "What's lost in translation". Not only through the development of word from "seed sound", but translation of word into multiple languages means we lose a lot in translation. Do we really know what we're saying? Does this even matter to us?
---